Marship-Yug Agency Ltd. has recently moved
» April 28, 2008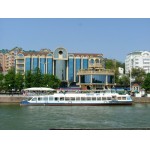 Announcement: Marship-Yug Agency Ltd. has recently moved to a new location in the heart of Rostov-on-Don harbour. Our new location and post address is as following:
344001, ROSTOV-ON-DON
BUDENOVSKIY AVENUE, 1/23
We are looking forward to meet you in our new comfortable office which is very easy to find. You may contact us via
our site
.
Return to
Archive